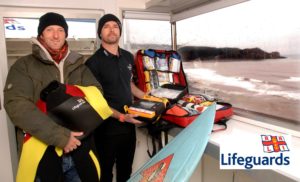 Life-saving facilities at Cayton Bay are now available all year round, instead of just during the busy summer season.
In an emergency, trained volunteers can access life-saving equipment at the lifeguard unit in Cayton Bay.
It has been organised by lifeguard supervisor Matt Jones, who says: "The initiative came about a few years ago when we realised that a lot of lifeguards in particular had made various assists – rescues involving casualty care over the off-peak times of year and after work shifts had finished.
"They only had their surfboards and wetsuits as opposed to the specific kit for rescue we carry on beaches – trauma bag, rescue boards, rescue tubes, wetsuits, fins and defibrillators".
All the equipment is kept at the lifeguard unit in Cayton Bay.
It's only the second unit of its kind in the UK. The other is in Newquay, Cornwall, where a similar initiative was set up after three people drowned the week after the lifeguards had finished.
The local community got together and came up with a plan to install accessible equipment for use by trained persons at any time of year.
To date seven lives have been saved.
The photo shows Matt Jones in the lifeguard unit (on the right) with surf coach and lifesaver Carl Walsh from the nearby Surf Shop.
(Words and photo by Scarborough RNLI press officer Dave Barry)