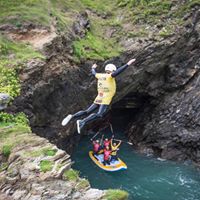 Ok guys and girls its about that time of year when all you Best Men and Maids are probably thinking about how you are going to give those Brides and Grooms a jolly good send off.
Brave enough to leap into  matrimony? Then how about brave enough to leap off a cliff into the North Sea?
Our Coasteering sessions are perfect for Stags and Hens with a sense of adventure and who want to do something different, we can accommodate groups of up to 25 and its an activity which all abilities and bravado can enjoy. Each session is tailored to suit the group, if you want to jump from 20ft no problem, if you want to sit out the bigger jumps that is fine.
We can finish the session with a BBQ and drinks either on the beach or back at our cliff top location at the School.
New for 2018 will be the open water SUP challenge, this will be a choice of a 2.5 mile, 3mile or a 5mile challenge, hugging the coastline we will paddle our way from your chosen drop off point finishing either at Cayton Bay, South Bay or North Bay depending on tide and wind direction.
Click on the route link below..
Again we can finish with a BBQ at Cayton or the Pub at the other locations.
Give us a call for prices and availability, we can also help with accommodation and recommend the best places to eat and drink in town (please feel free to invite us along ;0)