So winter is here! Time to hang the summer suit up for the year and get fully prepared to take on the great British weather and make the most of the winter swells. A good quality winter wetsuit is essential here on the cold east coast! Keeping you in the water for longer and getting the best out of every surf session whatever the weather – this guide has been put together by Tori Gower, secretspot surf coach and all round top waterwoman
As a qualified surf coach at secret spot surf shop and committed cold water surfer. I've been surfing on the east coast for around 15 years through some of our coldest winters. We all want to be on top form in the water and quality kit is key.
Its exciting to see women's surfing really taking off and seeing more and more women in the water! The development of women's wetsuits has come such a long way over the past few years with more performance suits readily available for the enthusiastic waterwomen of today! I'm very lucky to have first pick of the best brands in the industry through Secret Spot, so I have put together my top picks of my favourite go to brands of women's wetsuits for 2018/2019.
Lets keep you toasty whilst shredding this winter!
First up – Sizing is key!
In the past I've had issues with sizing and finding the perfect fit with women's wetsuits. I'm 5'3 and generally take a size 8 wetsuit. I'd always recommend trying on a couple of different suits in store to find the right fit for you or at the very least checking the brands size guide.
For example I'm not the tallest of people – With some brands if I were to try a size 10 suit it would be too long in the leg for me, so a taller lady would need to go up a size. Fortunately this seems to be a issue of the past nowadays! With more brands offering a tall or short sizing option, catering for all body types. The brands I have chosen in my opinion have nailed the sizing as well as performance with more attention to detail to suit women's needs. Nice flattering cuts, comfortable to wear and nice and snug.
Here are my top 3 suits for the winter 2018/19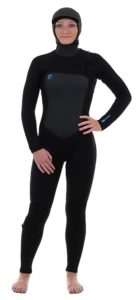 O'neill womens O'riginal FUZE hooded – 6/5/4mm (black)
Excellent value for money!! I've been really impressed by O'neills range this year! I've been wearing theirs 4mm suit all summer and its by far the best suit I've tried to date and the hooded FUZE doesn't have any complaints from me either.
If you want warmth and flexibility without having to splash out too much this is the suit for you! This is going to be my go too suit to brave through many cold surf lessons this winter. It's super toasty, soft on the skin and comfortable.
Its extremely durable which is a must with everyday use, yet surprisingly flexible throughout the whole body for a 6mm suit. I'm particularly impressed with the flush fit of the hood and very little resistance around the neck and shoulders. It fits like a glove and has a classic flattering cut – Top marks from me!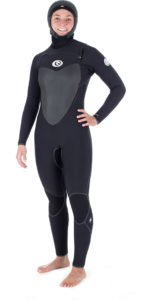 Rip Curl Women's Flash bomb 2018/2019 – 6/4mm (black)
I've been wearing Rip Curl's Flashbomb suits every winter for at least the past 3 or 4 years and have never been disappointed. Its not one of our best-selling suits for no reason and this year's batch is no exception! It's very popular amongst our local ladies here on the east coast and I can see why!
The Flashbombs's super flexible and lightweight, which is a must for me during winter sessions with that extra added weight of boots and gloves. It's a lovely snug fit, I've never experienced any flushing and the taped seams are soft and durable. Its highly rated by our local ladies including myself! Its E5 flash lining is an added luxury! Not just for warmth but its quick drying, so that second surf on a frosty day is that bit more appealing when faced with putting on a wet wetsuit.
Personally, I always choose a more flexible wetsuit over warmth but with this suit I don't have to it undoubtedly meets both needs.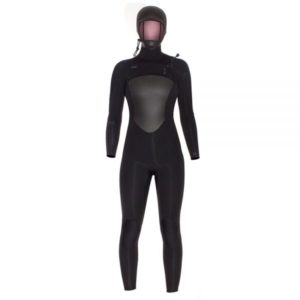 Xcel infiniti hooded 2018/2019 – 6/5mm (black)
So! Xcel never fail to deliver! These guys have got cold water surfing sussed! Several of our hardcore local girls here won't wear anything else. These suits are built to last and guarantee warmth. If you tend to feel the cold this is the suit for you!
he Thermo dry celliant on the chest and back keep your core and main organs super warm and it has the added lightweight balance of the new thermo light lining throughout the whole lower body, keeping you toasty without having to sacrifice any flexibility. This is an incredibly comfortable performance suit that's easy on the eye. We all know the only downside to the chest zip is getting the damn thing on and off but with the new one shoulder wide entry design of the infinity suit this isn't an issue. Gone are the days of wiggling round on the roadside trying to break free whilst withholding your dignity! Ticks all the boxes for me! Hats off to Xcel!
Shop for these suits at –