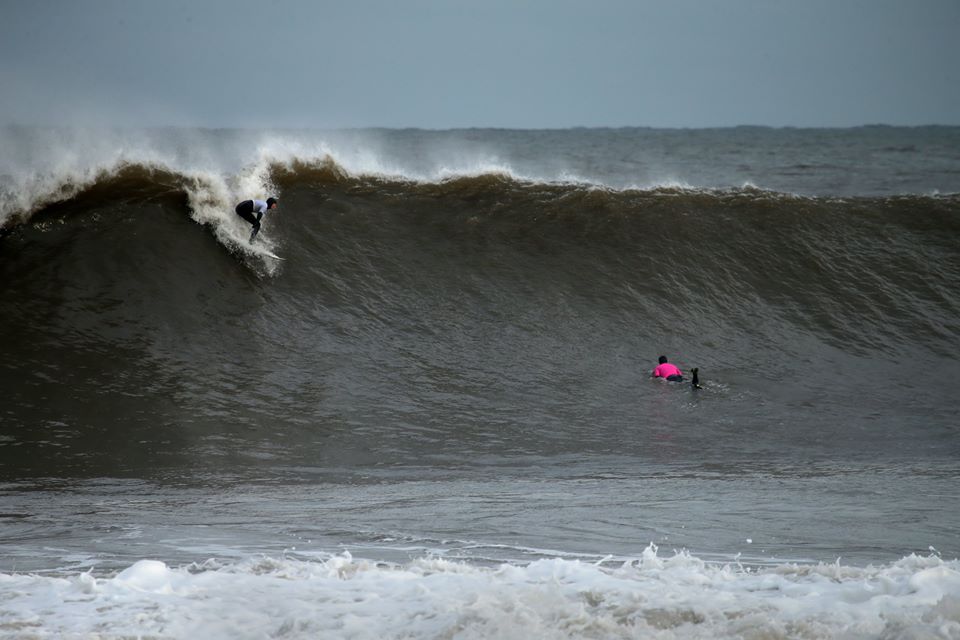 King of the Point 2019
King of the point is back! Due to the massive success of last years competition its back in a big way. Last December ' King Of The Point ' debuted delivering possibly the biggest surf ever contested on the UK's East coast with conditions of 3 – 4 metres powering over the Scarborough points .
LOCATIONS – The same two locations of Cayton Point and Cloughton Wyke located in the scarborough area will be where the meeting of the clans do battle. A third location is to be considered under Ripcurls ' The Search ' programme and with over 50 miles of wave rich coastline to search, there are many spots capable of being included in this years ' King Of The Point '
FORMAT OF EVENT – The format has slightly changed as last year we were swamped with entries. A maximum of 28 surfers will be chosen to compete in hopefully once again huge surf conditions. Entry details are located further down on this blog. As the event has only run once in two years the top placing 4 surfers from last year will gain automatic entry into this years event, these are Tom Wilson, Gabriel Davies, Evan Rogers and Danny Allot.
THE CONTEST OVERVIEW – The contest will be called on when XL clean surf conditions present themselves.The waiting period will run from November 1st 2018 – May 1st 2019. The same traffic light system will again be used to notify competitors the event is on: RED – No | Amber – Maybe | Green – GO King Of The Point could be called on within as little as 24 hours notice. Scotty will be keeping a keen eye on any would be monster low pressure systems this winter and ultimately will make the call. Miniumum size required will be 6 – 8 feet + . If conditions do not meet our criteria during the waiting period the contest will simply not be called on.
COMPETITORS – Secretspot and Ripcurl are wanting 28 competitors and 12 alternates to fill places if someone can not make it on the day. The Event will still run if we do not fill all the 28 places as this is the maximum. Last years legendary event ran with 20 competitors all doing battle over the Scarborough points. Due to tidal restrictions at both breaks it only leaves us with 3 – 4 hours contest action at each location. Competitors will be required to be registered by 7.30 AM on the morning of the event. Heats will take on a format of approx 1 hour, ensuring that every surfer in the event gets to surf twice (one at each location ).
HEAT SCORING AND SPECIFICS
Due to timescales surfers will be scored on their two highest scoring waves at each location and the highest accumlative 4 wave score of the day will be awarded the ' King Of The Point ' title.
To make this event fun, there are loads of accolades (and some pretty sick prizes) to be won. These will include
1. King Of The Point – Highest scoring accumulative points through the day gets crowned the winner
2. Best wave – The individual best wave ridden throughout the event
3. Best manoeuvre – The best single manoeuvre of the event
4. Best late charging takeoff – Awarded to competitor who truly shows commitment and probably shows psychotic tendancies also.
5. Longest wave – Its not unkwown for surfers to go out of sight at one of the locations.
6. Worst wipeout – We are expecting many so you can win this by default.
7. Golden mile / worst beating – At one location its not uncommon to blow the take off and get washed the entire length of the point.
We are looking to get the whole event videoed and photographed for a future presentation. As this is a charity event, if any would be people are intested in capturing the day please e mail scotty at shop@secretspot.co.uk for more details. We aim to make this a bigger success than last year folks and there will be a large alclcohol fuelled celebration in a scarborough bar somewhere to be announced.
HOW TO ENTER
To be considered for King of Point 2018/19 we just need a photo of you charging at least double overhead surf – the best way to enter is by getting on instagram and tagging us in your photo – @secretspotsurfshop – and using the hashtag #kingofthepoint. We will then message you back to get more info. If you dont use instagram, you can send your entry photo to shop@secretspot.co.uk.
Once we have your image, we will notify the chargers that have made it into this years comp
please note, there is a small entry cost of £20.00 for the chosen few, with all proceeds going to the local RNLI and Surfers Against Sweage.
SELECTION OF CONTESTANTS BY AREA
Scotland – 2 competitors
Cornwall, Wales and SW – 4 competitors
Scarborough and Whitby area – 14 competitors
Saltburn and Clevland area – 4 competitors
Newcastle and North area – 4 competitors
Secretspot, alongside Ripcurl, want to bring together a group of like minded surfers from across the UK. This is as much a gathering of clans as it is a normal run of the mill surf contest.
LET THE BATTLE COMMENCE !!!!