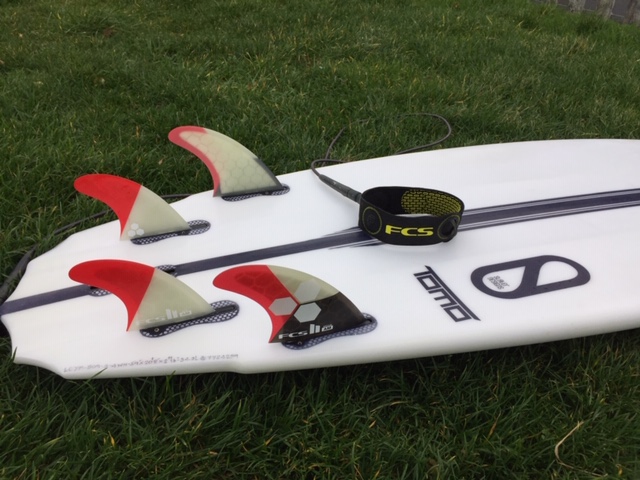 Ok people welcome to my first surf board review, over the coming weeks I am going to give you some handy feedback and hints on some of the boards I have been riding and the suits I have been wearing, working in the industry has many perks with the best one being able to get my paws on the latest trick gear to play around with so I think its only fair to share my thoughts with you guys.
My first review will be of my latest sled from the Firewire stable the Cymatic, this is one of the latest creations from super duo Kelly Slater and Daniel Thomson with my particular board being the 5,9". I am going to spare you a load of tech talk and instead tell you how the board really feels to surf.
As soon as I saw the unveiling of the Cymatic I knew I had to have one, not many boards have that instant love at first sight impact, maybe it was the footage of Mr Slater dissecting Soup-Bowl or maybe it was down to my year long love affair with the magical board the Evo, that I knew the wide nosed bat tailed love child of the Omni and Sci-fi would be a bit special?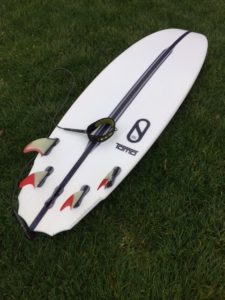 Finally the day came and it was there right in front of me and it seemed only fair that I dress the board up in some new fins and leash, I opted for the FCS Accelerator Quad set up in medium which I had tested out earlier this year at Surf Snowdonia, if your planning on getting loose and fast then these are the fins to have, and because every little helps I went all out and added the new FCS Freedom leash, less drag = more speed!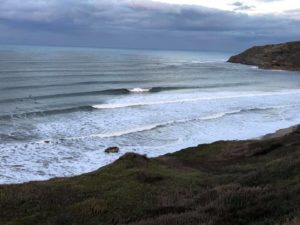 My first session was a bit stressful, there was a lot riding on this board my hopes were very high, and the bar had already been set by the mighty Evo. I had waited for a half decent day for my first session, so I paddled out at 3-4ft Bunkers here at Cayton Bay, a nice hollow fast wave which if my calculations were correct the Cymatic would fly in.
I am 76kg and on my first paddle out the board at 34.3 litres glided across the water very nicely indeed, duck diving the dumping sandbar was a doddle, so far so good, Initial worries about living up to the Evo in the wave catching department were soon forgotten as I paddle with ease into my first wave, and off we go!
"I feel the need…the need for speed"
(Cruise, Top-Gun 1986)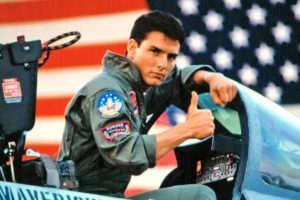 The full volume nose makes take offs nice and stable and as soon as you are up and driving down the line it becomes apparent that this board is very quick, in fact its as quick as the Evo and that's rocket powered!
Surely this is the board that Maverick would have rode?
Now all this speed is very good but what happens when you want to change direction? Cue the nicest cutback I have done in years! The narrower double bat tail really grips into the wave and very little energy is lost allowing you to hit the foam get back into the pocket to set up your next manoeuvre. The quad set up compliments the board perfectly giving the it that skatey almost out of control feel, I love how the tail releases while coming off the top allowing you to come back down the wave more vertically.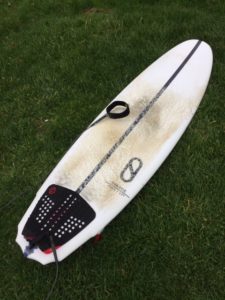 All these characteristics really do help exaggerate each manoeuvre and in turn allow you to perform more critical turns, you will find you can actually surf better which in turn builds confidence, it's a win win result.
So we have been together Three months now and we are still very happy together, we recently went to Cornwall and scored some hefty 6ft beach breaks in which the Cymatic was a lot happier than me to paddle into! Ive had her out in 2ft onshore slop which she performed very well in which leads me to believe this is a genuine One board quiver and excellent travel board.
I think you get the idea that I like the board now! If you are looking for a high performance yet user friendly stick then you need to check the Cymatic out, don't be fooled by its hybrid appearance you will never outperform this board, but you will improve and have bags of fun, oh and you can pretend your Slater or even Maverick too :0)